Delta Air Lines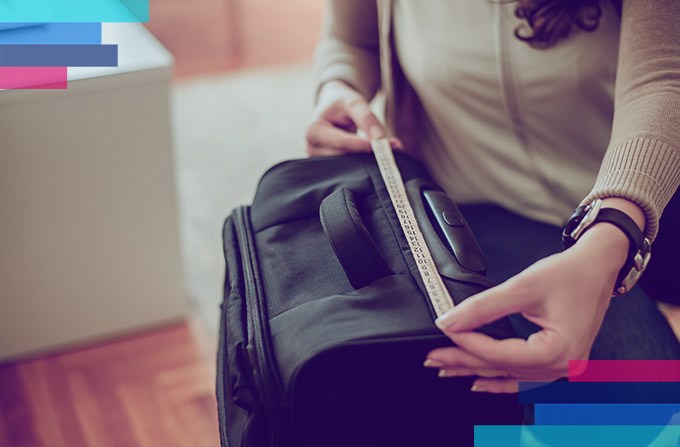 Check the hand baggage policy at Delta Air lines. Remember that the baggage dimensions are determined individually by each air carrier. If it is possible, choose a soft backpack instead of a rigid suitcase. It will be easier to adapt it to the requirements.
Checked baggage must also meet certain requirements. Check the permitted weight and size of checked baggage at Delta Air Lines. The number of suitcases that you can take with you depends on the booking class or tariff.
Hand baggage at Delta Air Lines
Baggage included in the ticket price

Maximum dimensions

Numer of pieces

Additional item

YES

total dimension 114 cm (width + length + height)

1

1 handbag / suitcase/camera case/ diaper pack

OR

1 laptop
LUB
1 item with a size equal to or less than the above
In addition, the passenger can take with him on the board
• jacket and / or umbrella,
• food and drinks bought after security checks,
• products purchased in duty-free stores,
• items that allow children to travel (prams, seats) or people with limited mobility (prams, crutches).
Delta Air Lines doesn't specify the maximum weight of hand baggage, except for:
• Singapore, Changi International Airport (SIN): maximum weight 7 kg,
• Seoul-Inczon, Incheon International Airport (ICN): maximum weight of 10 kg,
• Beijing, Beijing Capital International Airport (PEK): maximum weight for domestic flights of 10 kg (international flights - unlimited),
• Shanghai, Pudong International Airport (PVG): maximum weight of 10 kg.
Attention! The dimensions of hand baggage also include protruding elements: handles, wheels, etc.
Checked baggage at Delta Air Lines
The total size of the piece of luggage (length + width + height) can not exceed 157 cm.
tariff

BASIC ECONOMY, MAIN CABIN, DELTA COMFORT+

FIRST CLASS, DELTA PREMIUM SELECT, DELTA ONE

Baggage size

1x23 kg

2x23 kg

2x32 kg

surcharge

domestic routes in the USA and USA - Canada

25 USD

60 USD

Included in the ticket price

routes between the USA or Kanda and the Virgin Islands, Central America, the Caribbean, Guyana or Bermuda

25 USD

65 USD

routes between the USA or Canada and Mexico

25 USD

80 USD

routes between the USA or Canada and El Salvador

Included in the ticket price

40 USD

routes between the USA or Canada or Mexico and Tahiti

Included in the ticket price

100 USD

routes between the USA or Canada and Sudan, Syria, Iraq, Kazakhstan, Kyrgyzstan or Uzbekistan

Included in the ticket price

75 USD

routes between the US or Canada and the countries of the Arabian Peninsula, Kuwait, Egypt, Lebanon, Jordan, Iran, Pakistan or Afghanistan

Included in the ticket price

Included in the ticket price

routes between the Caribbean, Mexico or Central America and South America (excluding Brazil and Guyana)

Included in the ticket price

Included in the ticket price

routes between the USA or Canada and South America (excluding Brazil, Guyana and Venezuela)

Included in the ticket price

Included in the ticket price

routes between the USA or Canada and Venezuela

Included in the ticket price

55 USD

routes between the USA or Canada, the Caribbean, Mexico, Central America and South America (excluding Brazil) and Israel

Included in the ticket price

100 USD

routes between the USA or Canada, the Caribbean, Mexico, Central America and South America (excluding Brazil) and Australia, New Zealand or the Philippines

Included in the ticket price

Included in the ticket price

routes between the USA or Canada, the Caribbean, Mexico, Central America and South America (excluding Brazil) and Asia

Included in the ticket price

Included in the ticket price

routes between the USA or Canada, the Caribbean, Mexico, Central America and South America (excluding Brazil) and South Africa

Included in the ticket price

Included in the ticket price

routes between the USA or Canada and Mexico and India

Included in the ticket price

Included in the ticket price

routes between the USA or Canada and Europe and North Africa

Included in the ticket price (MAIN CABIN, DELTA COMFORT+), 60 USD/50 EUR (BASIC ECONOMY)

100 USD/85 EUR

routes between the Caribbean, Central America and South America (excluding Brazil) and the Middle East (excluding Israel)

Included in the ticket price

75 USD

routes between Mexico, Central America and the Caribbean

25 USD

40 USD

routes between Europe and India

Included in the ticket price

75 USD

routes from and to Brazil

Included in the ticket price

Included in the ticket price

routes between Japan and Guam, Saipan or Palau

Included in the ticket price

40 USD

routes between the Caribbean, Central America or South America (excluding Brazil) and India

Included in the ticket price

75 USD

routes from the USA, Canada, the Caribbean, Mexico, Central America or South America (excluding Brazil) with the first stopover in India

Included in the ticket price

Included in the ticket price